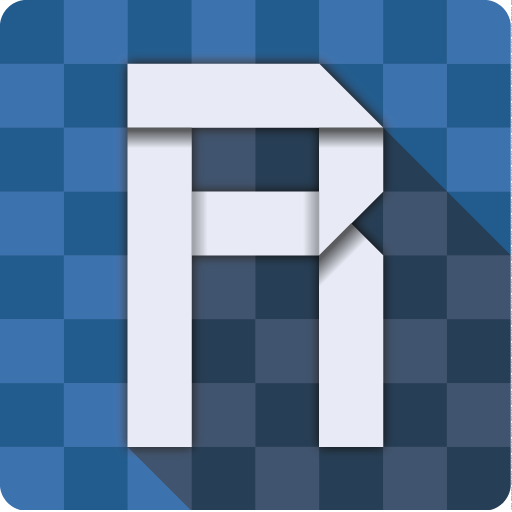 Welcome Agent,
Thanks for being a MOD on TheGrid. It's really nice to have you in our Team. Please start reading the FAQ to get the most out of helping agents with questions. Thank you. <3
So, what are your tasks?
Verify incoming new users at TheGrid

Validation of achievements

Clean up all toplists from suspicious entries (or "Report update" via the cogwheel)

Check if there are any unanswered questions in RESWUE Community that you can answer.

1.https://the-grid.org/toolbox/newusers
2. https://the-grid.org/r/?page=validate
3. https://the-grid.org/r/?page=toplist
4. https://community.reswue.net/forum/board/37-the-grid/

If you need to know who else is a MOD, please check our Team page by clicking HERE.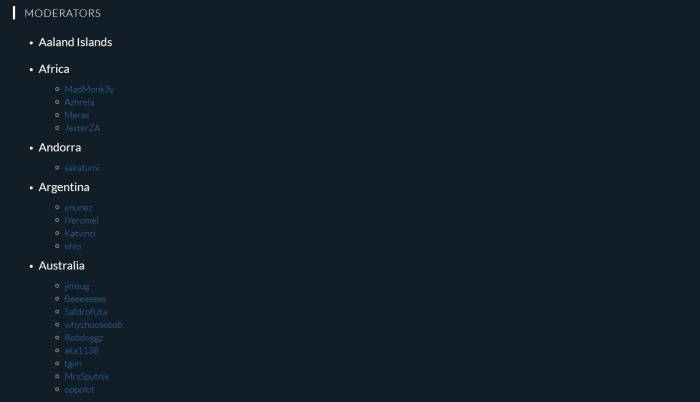 The Admin Toolbox
The Admin Toolbox can be found by clicking on the new Main menu item that appears when you are promoted as MOD. If it doesn't appear instantly, please refresh the page via STRG+F5 or just login/logout on TheGrid.
A lot of stuff can be done here. Adding regions to countries, verifying new users, validate special achievements, edit user details, edit stats, add events, etc. - so, just get used to it, and feel free to ask any GlobalMod if you have any questions.

Regioneditor
Here you can add missing regions in your country, or maintain existing regions.

Look up your country and then click on "OPEN" to get access to it.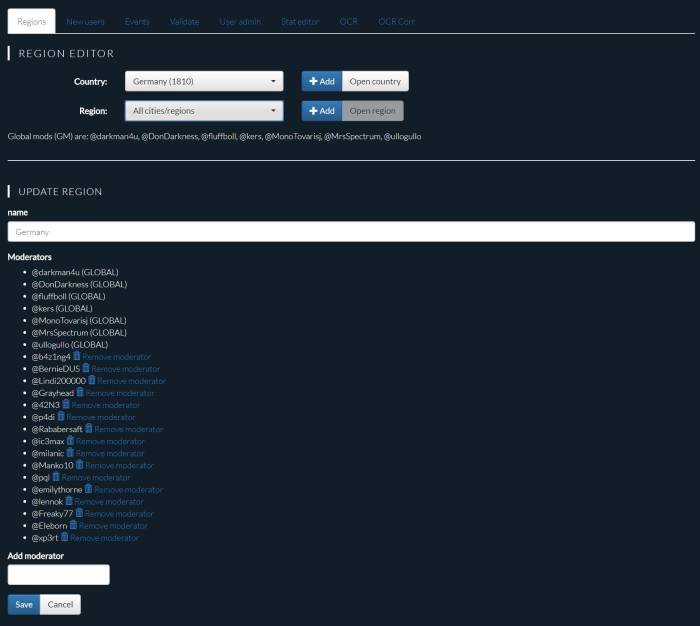 Events
If there is a new Mission Day, NL-Event, Anomaly in your Country. you can add it here. Please only add events that have already taken place. After its added here, the user can look up the event and add it to their profile. PLEASE CHECK that the event wasn't created already from another Country Mod!
First select the event series, like Recursion, then add the City to it.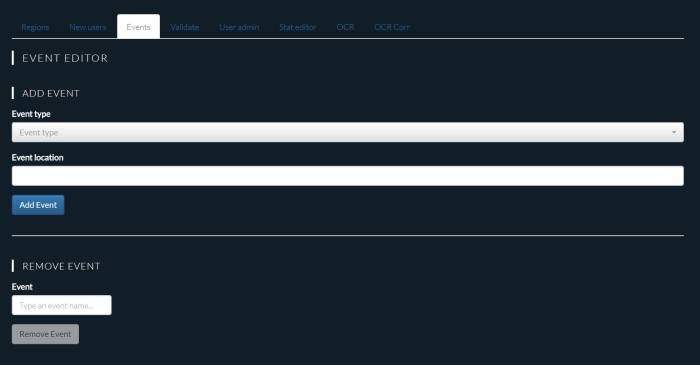 Validate "Special Achievements"
All applications for special achievements like Leader, FrogTears, etc.
Please only approve the achievements that have a nice description/story & make sense. If someone applies for "FrogFarmKiller" and only has "20 resos destroyed" something is fake. :)
Please read here for details about the special achievements: https://faq.the-grid.org/special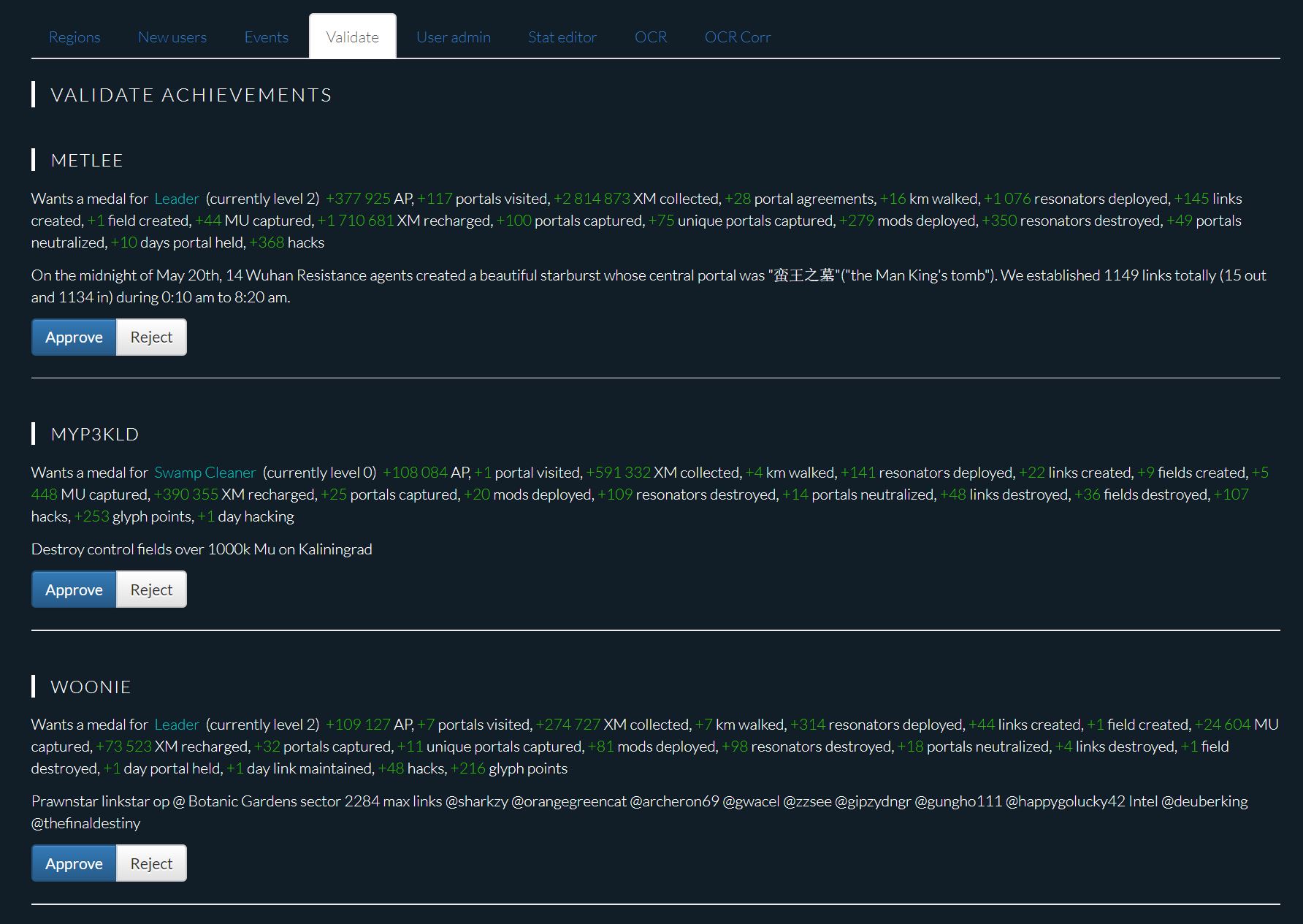 User admin
Codename can be changed if the agent did a name change in Ingress. Be aware, that is the login name. If you change it, tell the user please. (Google-Login isn't affected by it).
BAN: Activate the checkmark, then the user cant log in anymore. Please report to a Global Mod to delete the user (if necessary).
DELETE: GlobalMod only (after sending a green profile screenshot to a globalmod)
CLEAR FROM TOPLISTS: GlobalMod only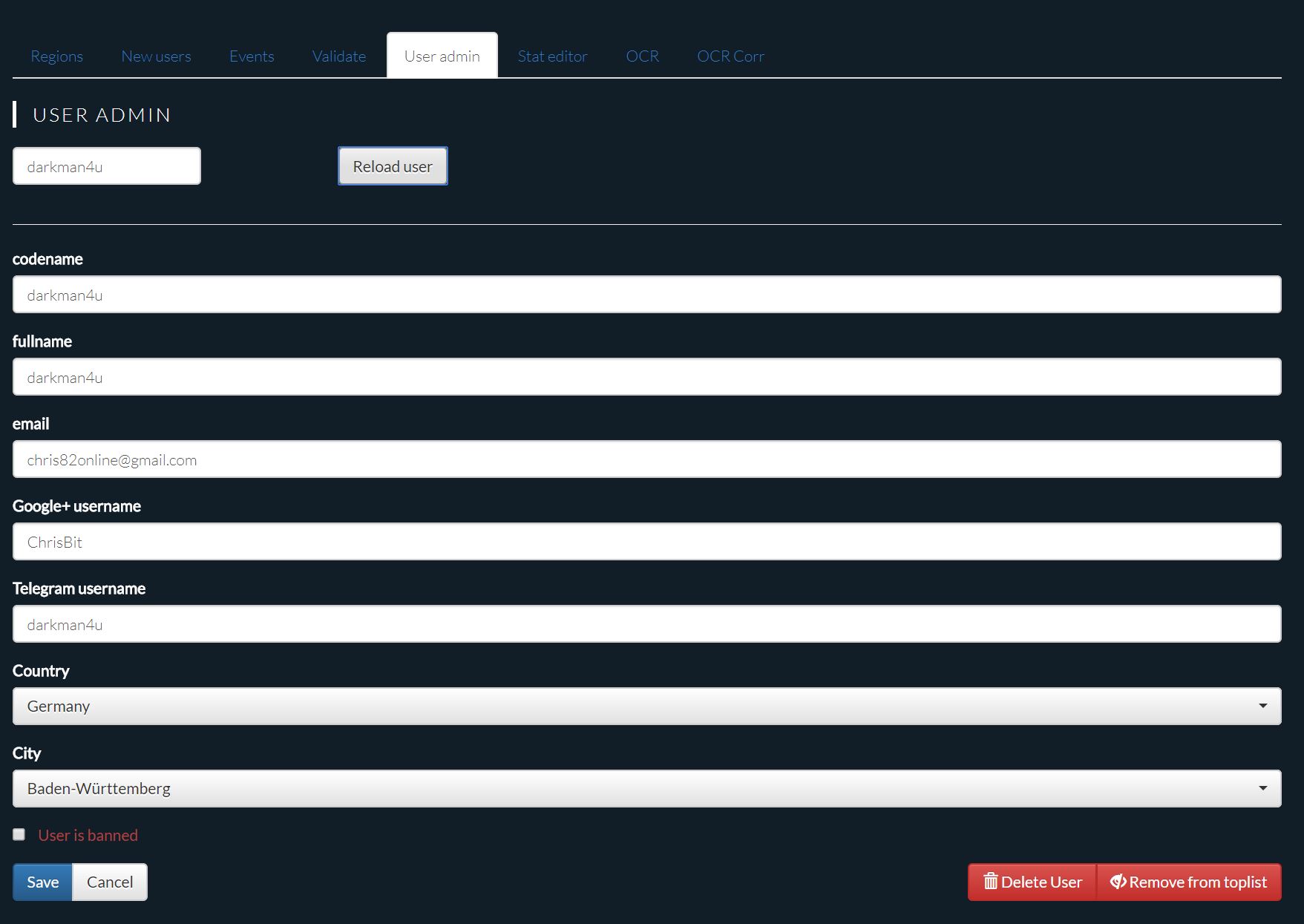 New User workflow
If you click on "New Users" you're gonna see a list of users that are not approved for TheGrid yet. Click on the filters to filter the users that belong to your country.
How to Verify a User?
1. Check if the User is trusted on Reswue. If he is → This is good!
2. Check if the User is trusted on OneRing. If he is → This is good!
3. Then check if the User's Email / G+Account (provided in TheGrid) match with the Account provided in Reswue. Enter the Email in Hangouts / Agentname in Telegram, write a message to the user and compare G+ Accounts. (can be done in OneRing as well with comparing the accounts)
4. If the User isn't in Reswue, ping him in All comm, check if RESISTANCE, and try to click on his linked Agent profile (in Scanner). If it's the same as in the provided email, write a message in Hangouts/Telegram and verify if he applied to TheGrid. And, as well, please check if it's a Level 1-8 account that looks weird. It COULD be a Frog with a blue account!
TheGrid is RESISTANCE only, so please take care of it. If you can't verify someone, ask for help in Mod-Slack-Channel / Mods-TG-Channel. Setting to "unknown" in the New-Users-List triggers an Email to the User and telling him to add more details.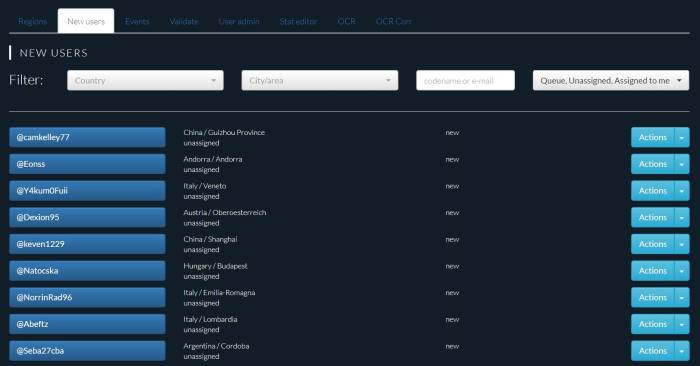 Via the "Action" button you can assign a user to yourself. So you take care of approving him. But any other MOD can approve the user as well. (Maybe he knows him already)
Approve: User can start using TheGrid. (Every action triggers an email notification to the user)
Duplicate: If an Agent name is used twice at the signup, please mark user as duplicate.
Frog: If it's a frog, mark him as frog. Email is blocked then.
Unknown: Only mark as unknown if nobody can verify the user. The user will receive an email requesting more information. If they update their application, it will show up again as new.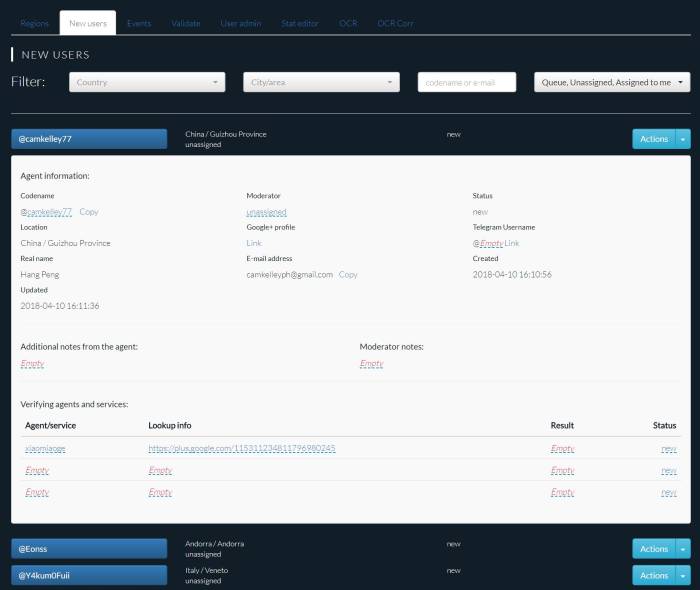 Names & fields with the blue marker can be edited by Mods - to correct typos or add notes to a user.
You can reassign or let the user be taken over by another Mod. (Just click on the blue text under "Moderator")
The Cogwheel
The Cogwheel can be accessed on the right top side of every log. There are several options that can help you to validate stuff or feature / edit the entry.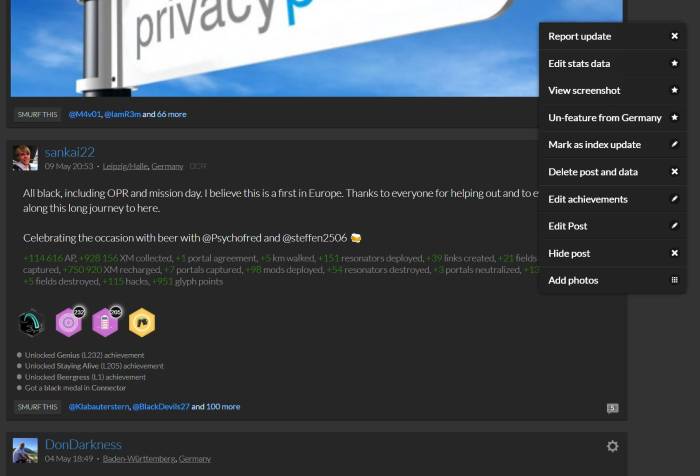 Log-Features on TheGrid
Feature "Globally" is limited to Global Mods
All Mod can feature posts in their own country and even down to the city/region of the user that wrote the post.
Why and what Posts will be Featured?
Features are the front of the Grid and it is partially localized, partially global. Comments on features should therefore be written in English. No need for lots of features, always choose quality over quantity.
Features are usually:
- Sitreps from bigger operations.
- Impressive accomplishments by a single Agent (L16, Unusual Onyx Medals ⇒ NOT SpecOps, Trekker or Guardian).
- Anomaly reports with a good description/story and/or good photos attached.
- Other updates that have a strong news value or great story/photos.

New user warnings:

New Users WITHOUT a country / region / city set are only visible to Global Mods. Agents with these missing entries can change this themself by usig the browser via mobile or directly from a PC. From mobile the fields maybe locked. New Users get a lot of "hints" to add their location and timezone.

Important links
Copy/Paste text in several languages
https://docs.google.com/document/d/1CkaFhwDso5lhiQaWYOvTNQHQu9t8bDYhi07NVbWxxis
Worldwide G+ Community: (approval required after apply)
https://community.reswue.net/forum/board/37-the-grid/
TheGrid
Login
Sign-up Help
Country request form
Apps
Android-Download
https://the-grid.org/link/android
iOS-Download